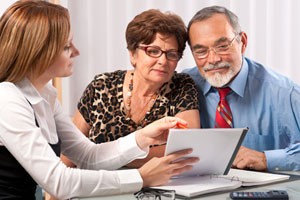 Life insurance guarantees the payment of a sum of money upon the death of the insured. With a life insurance policy, your assets are dispersed in a manner that you decide, ensuring that the people you leave behind are cared for after your passing. We offer whole life, term life, universal life, and variable life policies.
Visit our Life Insurance FAQ page.
Whole Life
Whole life is the most popular cash value life insurance option, which provides coverage for as long as you live, usually payable for a period of 20 years or to age 65.
Term Life
The most popular policy, term life insurance, provides coverage for a number of years, paying a benefit if death occurs during the policy term.
Universal Life
You also could consider universal life insurance, an adjustable life insurance product that allows you to vary the premium payment within certain limits by the insurer and the tax code.
Variable Life
Another option is to structure your whole life or universal life policy into a variable life insurance product where the cash value is dependent on the investment performance of one or more separate accounts.
Health Insurance
We offer individual health insurance through three major carriers: Conseco Medical Insurance Company, Celtic Life Insurance Company and Fortis Benefits. However, these plans are not available to Massachusetts residents. We are brokers for Blue Cross Blue Shield of Rhode Island and can provide coverage for our business clients and their employees.
Visit our Health Insurance FAQ page.
Long Term Care Insurance 
Created to help protect you from the high cost of medical care, long-term care insurance provides you with assistance after an injury or disability. With a long-term care policy, you can protect your assets, minimize your dependence on family members, and control your long-term care services.
Disability Insurance
Disability insurance replaces a portion of your regular income when an illness or accident prevents you from working. Acting as a safeguard against the possibility of disability and unemployment, disability insurance ensures that you can maintain your current standard of living.
Visit our Disability Insurance FAQ page.
Umbrella Liability 
Used to safeguard you and your family from being held at fault for expensive claims and lawsuits, an umbrella policy takes over where your homeowners' and auto insurance stops. An umbrella policy can provide you with over ten million dollars in coverage, which will ensure that everything you value is protected.
Financial Services
Butler & Messier offers expert advice on estate planning, annuities, and mutual funds. Since we are not beholden to any single company, we are able to implement your financial plan in an unbiased manner, helping you to achieve your financial goals.